(Floral)Item NO:FCP-060-1
1. Introduction Of Yellow Plum Blossom Flower Painting
This beautiful painting is 100% hand-painted oil painting provided by ARTLAND.
The major of this painting is yellow plum, it composed of three parts, the color is bright and rich while the author used yellow with orange as the main color.The seemingly casual but bold strokes combined together so that made the picture vivid and lively. Although there are many strokes, but from the overall it seems not mess.The blooming and interspersed plum makes the picture very comfortable in impression. The author took great effort to depict the branches, two trunks which extend from the edge of the screen seems particularly prominent, the author chose to put the idea on the right of screen is very characteristic, watching carefully,on the edge of branches,you can find a faint white which is not obvious but can't be ignored,it showed the scenery that the plum blooms proudly in winter after the first snow.Plum is considered as the most integrity flower in China.The author compared the person who can uphold integrity and justice to plum¡¯s strong and noble character .At the same time the author also salute to this spirit which is missing gradually in modern society.
2. Parameter(Specification)Of Yellow Plum Blossom Flower Painting
| | | | | | |
| --- | --- | --- | --- | --- | --- |
| Material | Color | Size | Image dimensions: | Product type | Style |
| canvas,wood Frame | Powder Blue, Pink Green and Blue, Lavender, Pink, Blue Ash, Pink Yellow, White, Gray-green Background. Black Tree Stem, Orange, Deep Yellow, Pink Yellow, Gray Brown, White Flowers. | 12x16inchesx3 | 16 inches high x 36 inches wide x 1.0 inches deep | Hand-painted gallery-wrapped canvas art | Contemporary |
3. Application Of Yellow Plum Blossom Flower Painting
A perfect wall decoration for living room and bed room.A great gift idea for your relatives and friends.
4. Details Of Yellow Plum Blossom Flower Painting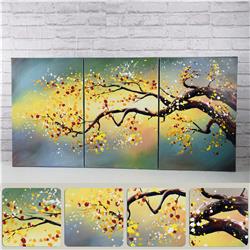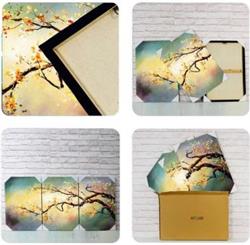 1).Feature: ARTLAND Modern Flower Painting on Canvas "Yellow Plum Blossom" 3-Piece Gallery-Wrapped Framed Wall Art Ready to Hang for Living Room for Wall Decor Home Decoration 16x36inches
2).Dimensions: 12 x16 Inches x 3 pcs
3).Stretcher: Inner Stretcher Sticked With Black Felt,Hook Easy to Hang Directly
5. Return Policies
You can return our items purchased at ARTLAND for a full refund within 30 days of purchase.
6. FAQ Of Yellow Plum Blossom Flower Painting
Q: Does this print go around the sides of the frame?
A: No it doesn't.
Q: Does this come on stretcher bars, as depicted, or would I have to buy my own stretcher bars and stretch it myself?
A: Thanks for your interest our paintings. The oil Painting On Canvas with stretcher. You can hang on the wall directly .
Q: Who are your artist?
A: Our artists have, on average, 20 years of experience and they all have advanced degrees in fine arts.